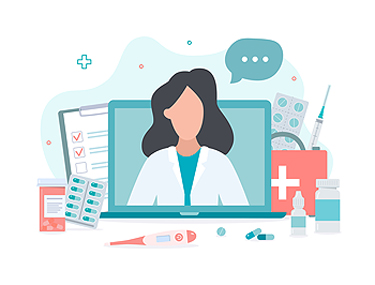 In response to the Coronavirus outbreak, we are limiting office visits and visitors in our office.
We are still treating patients with foot fractures, tendon ruptures/ injuries, foot infections and acute problems that need immediate attention.
We are also offering appointments online for those who would prefer telemedicine.
Telemedicine is not appropriate for all problems, but it is a good option for patients who don't feel comfortable going into a medical office.
Please call our office to schedule your Video-Chat appointment with Dr. Davis.
Typical appointment times last anywhere from 5-15 minutes depending on your problem.
Telemedicine is billed as a regular office appointment through your insurance.
Copays and deductibles may still apply.
Please contact your insurance company to verify that telemedicine appointments are covered but most insurances are covering telemedicine visits due to the Coronavirus.
Patients who are scheduled for Telemedicine visits must be physically located in the state of Missouri or Kansas at the time of the appointment.
To set up your virtual office visit with Dr. Ali Davis, please call our office at 1-913-364-1314, Option #1 or click here to "Book Appointment" for the next available appointment at The Foot Clinic."
Thank you,
Dr. Ali Davis